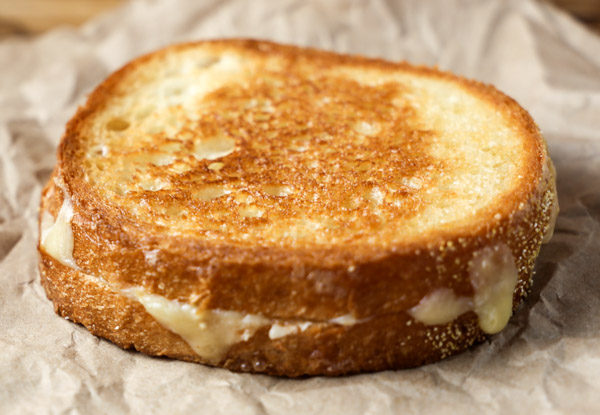 Simply Amazing Grilled Cheese! The name says it all. I would not go as far as to say I am giving you a recipe for a grilled cheese sandwich. I am however letting you in on what works in the Tabs and Tidbits household for making a Simply Amazing Grilled Cheese!
A good recipe is often about the quality of ingredients. Simple recipes especially! A grilled cheese sandwich is not difficult, so I have found the combination of ingredients that make an amazing grilled cheese.
What makes this grilled cheese sandwich even more amazing is serving it with Creamy Tomato Basil Soup!!!
Print Recipe
Simply Amazing Grilled Cheese
A simple grilled cheese sandwich that uses good quality bread and cheese!
Ingredients
Sliced good quality Italian white bread

not too thick

Sliced Kerrygold Dubliner Irish cheese

Real butter
Instructions
In between two slices of the Italian bread, put the desired amount of Kerrygold Dubliner Irish cheese slices. This cheese has a lot of flavor, so you do not have to go overboard on the amount of cheese.

Melt a pat of butter on your skillet or griddles over medium heat, Lay the sandwich on the melted butter. Let the sandwiches brown until golden (about 2-3 minutes). Lift up the sandwiches and add another pat of butter. Once butter is melted, brown the other side until golden.

Enjoy!
Notes
Kerrygold Dubliner Irish cheese is typically available at local large retail grocery stores. I normally find it in the specialty cheese sections.
This is not a sponsored post.