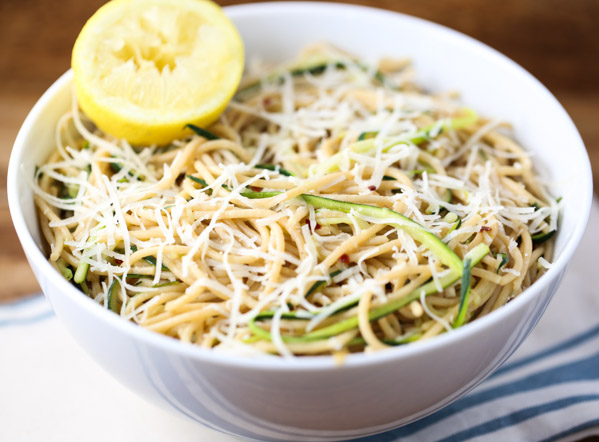 It never ceases to amaze me that some of the most delicious meals are made with simple and uncomplicated ingredients. This Zesty Spaghetti and Zucchini dish is an example of just that principle. The magic happens in the preparation and putting all of ingredients together to make them a perfect combination!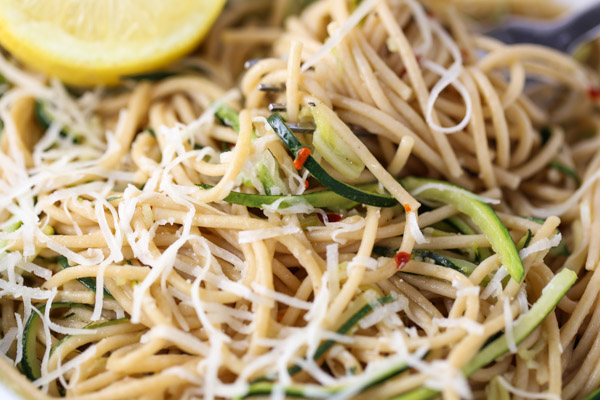 The zucchini in this dish is in long and thin julienne strips. Using a mandoline is the quickest and least complicated way to cut the zucchini. If you do not have one, just  be sure to cut the zucchini as long and thin as you can.
The red pepper flakes add a nice kick. If spicy is a concern just use less or omit the red pepper flakes altogether.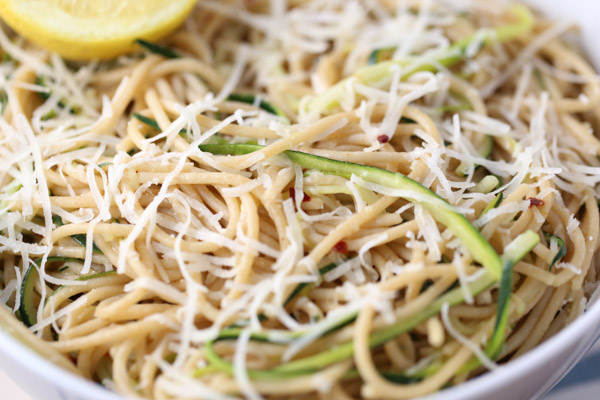 This Zesty Spaghetti and Zucchini gives a perfect balance of hearty texture from the whole grain pasta and delicate bite from the zucchini. The olive oil, garlic, red pepper flakes and lemon juice are the flavors that bring this dish together!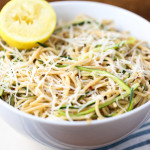 Print Recipe
Zesty Spaghetti and Zucchini
Whole wheat spaghetti and thin strips of zucchini with garlic, olive oil, fresh lemon juice and a hint spice from red pepper flakes.
Ingredients
3/4

lb

whole wheat spaghetti

3/4

lb

zucchini

1/4

cup

olive oil

1

T

minced garlic

1/2

t

red pepper flakes

3

T

chopped fresh basil leaves

Juice of 1 lemon

1/2

cup

grated parmesan cheese

plus more for topping

salt and pepper

to taste
Instructions
Cook the pasta until al dente according to package directions.

While the pasta is cooking, cut the zucchini into very long, thin julienne strips. I recommend using a mandoline for this step if you have one..

During the last 30 seconds of the pasta cooking, add the zucchini strips to the cooking pasta. This will heat up the zucchini without over cooking the zucchini.

Before draining the pasta and zucchini, scoop out 1/2 cup of pasta water and set aside.

Drain the water from the pasta and zucchini.

In a small skillet, heat the olive oil over medium high heat. Add the garlic and cook until fragrant and light brown. Carefully add the red pepper flakes and chopped basil. Carefully stir to combine and then remove from heat to avoid burning the ingredients.

In a large bowl, add the warm pasta and zucchini mixture. Stir in the garlic oil mixture, lemon juice and 1/2 cup grated parmesan cheese. Toss to combine and add the reserved pasta water but just enough to make a smooth sauce. (You may not use all of the pasta water.) Add salt & pepper if needed.

Serve in individual bowls with additional grated parmesan cheese.