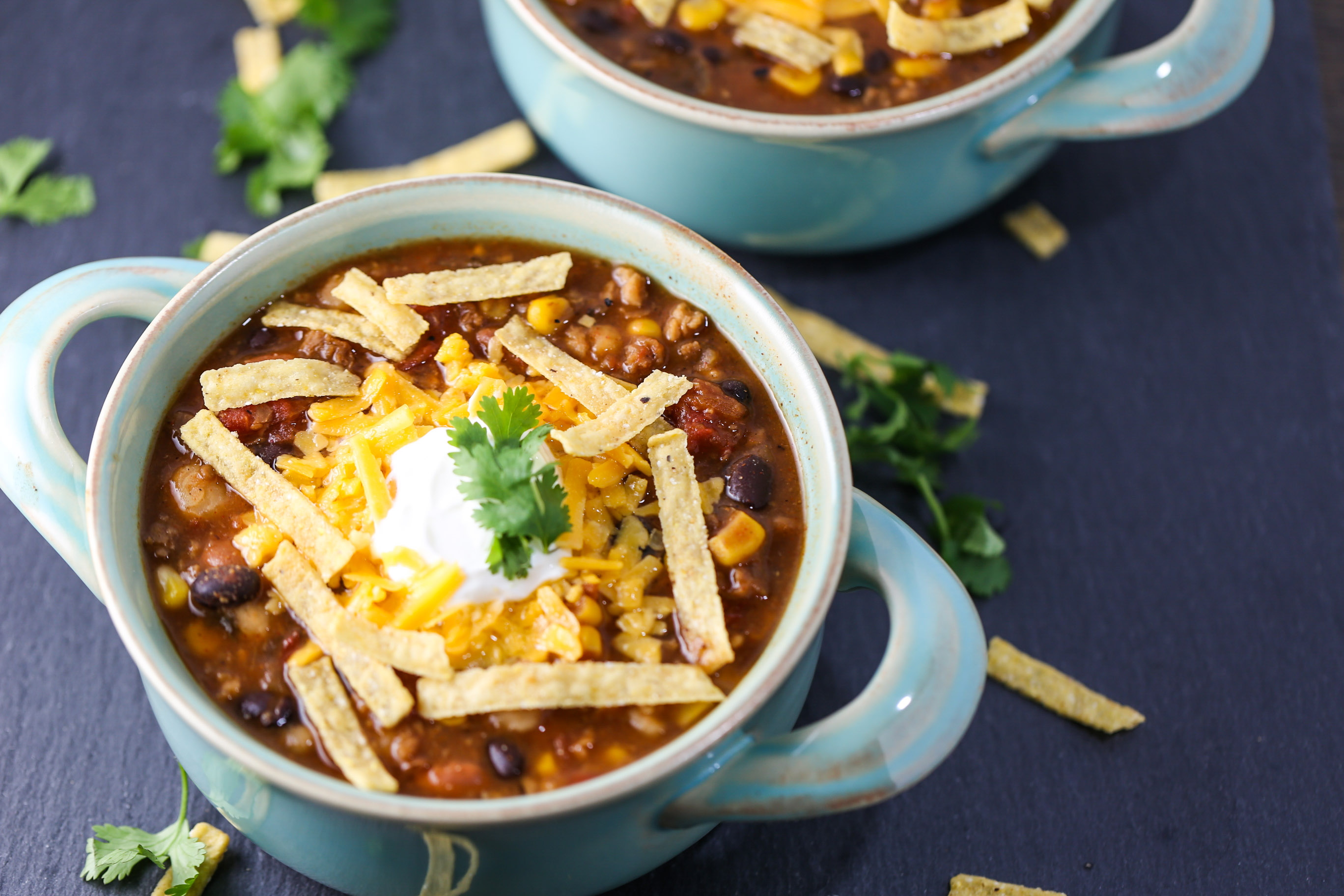 The slow cooker is in use year-round in our house. But now that it is officially fall, we started the season out with this Slow Cooker Taco Soup. A hearty and spicy soup filled with plenty of seasoning and protein!
The other day, I experienced a cool fall crisp in the air! Of course, it was at 5:30 in the morning! Before the sun gave us another overwhelmingly hot day! If you are starting to receive fall-like weather or if you are still getting some leftover summer weather, this time of year still calls for chili or a cozy soup. This Slow Cooker Taco Soup fits the bill in our house!
When I first started experimenting with this Taco Soup, I wanted to just make it easy and use 1 packet of taco seasoning  or homemade taco seasoning. Since this soup makes a large batch, the taco seasoning alone did not do the trick. So, by adding some additional spices, we ended up a flavorful and spicy taco soup that was perfect! Speaking of spicy, you can control the heat by leaving out the cayenne pepper and using a mild tomatillo salsa.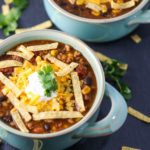 Print Recipe
Slow Cooker Taco Soup
A hearty and spicy soup filled with plenty of seasoning and protein!
Ingredients
1 14.5-

oz

can petite-diced tomatoes

1 15-

oz

can black beans

rinsed & drained

1 16-

oz

can pinto beans

rinsed & drained

1 15.25-

oz

can corn

drained

1 15.5-

oz

can white hominy

rinsed & drained

1

cup

green salsa

aka tomatillo salsa

4

cups

vegetable broth

1 13.7-

oz

frozen soy grounds

i.e. Gardein, Boca or you can use 1 lb browned & drained ground beef

1 1-

oz

taco seasoning packet or 3 T homemade taco seasoning

1/4-1/2

t

cayenne pepper

I use the full 1/2 t for extra spicy

1/2

t

smoked paprika

1/2

t

chili powder

1/2

t

ground black pepper

1

t

salt

1

T

cornstarch

2

T

cold water

Toppings: Grated cheddar cheese

sour cream, fresh cilantro, tortilla strips/chips
Instructions
In a 6 quart or large slow cooker, add the tomatoes, black beans, pinto beans, corn, hominy, salsa, soy grounds, vegetable broth, taco seasoning, cayenne pepper, smoked paprika, chili powder, black pepper, and salt. Stir to combine. Cover and cook on low for 6 - 8 hours or high for 3 - 4 hours.

Once the soup is hot and ready, prepare the cornstarch mixture. In a small bowl, add the cornstarch and water. Stir until the mixture is smooth. Add the cornstarch mixture to the soup. Stir well. This will slightly thicken the soup.

Serve with desired toppings.

Enjoy!