Last week I shared Marmalade's Dental Extraction Story – The Diagnosis & Treatment. Today, I am sharing Marmalade's recovery.
Marmalade was able to go home the same day she had the dental with extractions. There were no complications during the procedure, so I was scheduled to pick her up later in the afternoon. She was given some good pain medication while she was at the vet. She was sent home with an antibiotic, more pain meds, and an anti-inflammatory medication. The vet technician gave me a thorough rundown of what I should expect from Marmalade over the course of the following week. Soft food was the recommended diet, but  it would be normal for Marmalade not to eat for up to 2 days. She would need to drink water within 1 day. Anything longer, I would need to bring her in. There would be some drooling and some blood up to 2 weeks post opt. Marmalade would need to rest the first 24 hours, but she could resume normal activities the next day.
(Marmalade 3o minutes after she got home from the dental extract surgery. Don't laugh, she was feeling good and loopy from the pain meds and naturally swollen! I did wipe the drool that was on her chin before I snapped this picture!)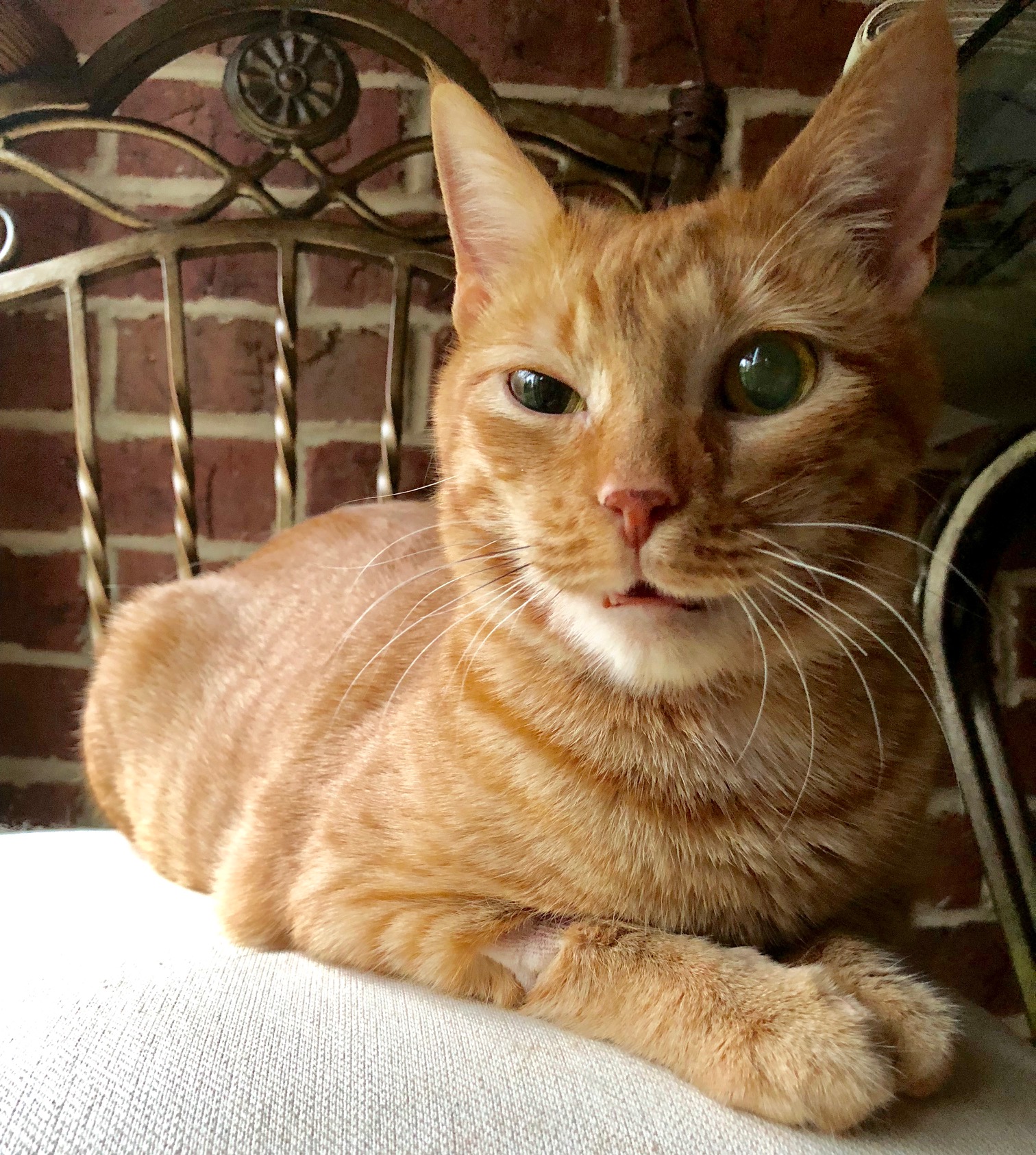 When I brought Marmalade home, she rested in her favorite spot of the house for the rest of the night and into the next morning. She drooled a lot, but she rested comfortably the entire night. The instant improvement from Marmalade's dental extractions was her breath smelled 100% better. Marmalade's doctor said Marmalade will feel much better with the teeth gone. To be honest, I never realized Marmalade was in any pain whatsoever until her doctor told me. Marmalade never showed an ounce of pain, but the sad reality is she had been living with pain. On another note, it was hard to imagine feeling better if I had just had 87% of my teeth extracted at once.  But, to my amazement, Marmalade was a happy, loving, and energetic girl a mere 3 days after the surgery! Marmalade would rub all over us as if she was saying I feel so much better already!
Prior to Marmalade's surgery, I had purchased any food I thought Marmalade would be able to eat while recovering. However, her doctor said Marmalade will be able to eat the food she had always eaten, just a soft food diet at first. By day 2, Marmalade was ready to eat! Marmalade went straight to the canned food she had always eaten! She never needed the jars of baby food or any of the specialty foods I had ready on standby! Within 3 days, Marmalade was starting to eat the dry food she always loved!
(Marmalade eating her first soft food meal!)
On a side note, I had all four of my wisdom teeth extracted several years ago. I recall like it was yesterday, the pain, the swelling, and the food I could not eat. For a week I was eating applesauce, mashed potatoes, vegetable broth, anything pureed. I was using ice packs back to back. I was a pitiful mess for a week, and I only had 4 teeth removed. Marmalade had 26 teeth removed, and she was eating canned food in 2 days and within 3 days she was eating her regular dry food like a champ. Less than a week after her dental extractions, Marmalade was eating, playing, and an even happier Marmalade than the happy Marmalade we always knew. I was in complete awe at how well and fast Marmalade recovered!
(Marmalade the following day from her surgery. She was up and moving like it was just another day!)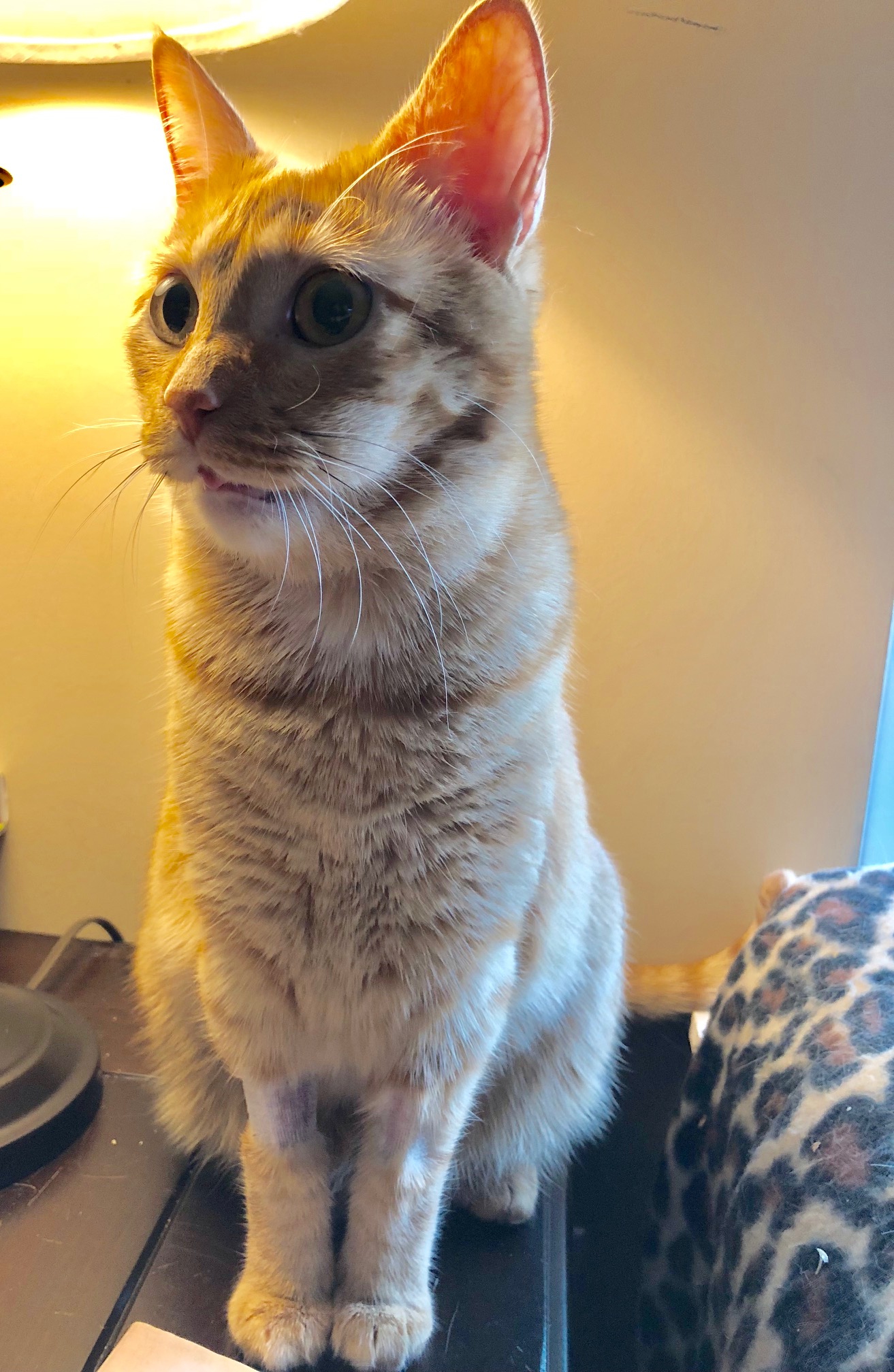 When Marmalade's doctor explained the need for the dental extractions, she also explained that Marmalade has no other underlying conditions and she is young. Sooner than later would be the most ideal time to pull Marmalade's teeth since nothing was compromising Marmalade's recovery. Not to mention, she knew how much pain Marmalade was already in and how her condition would only continue to worsen. As I have talked to other people whose cat's had the same diagnosis and treatment as Marmalade, they also shared how fast their cats recovered and how they were able to eat whatever they wanted. Extracting teeth may seem aggressive, but the disease required an aggressive treatment to stop the cruel progression of the disease. Marmalade's recovery was the easy part!
When Marmalade went back for her 2 week check up, her doctor examined her mouth and said the gums have healed beautifully. Marmalade looked great! Would you believe that from the day of the dental extractions to the 2 week check up, Marmalade had even put on a little weight! Marmalade had in fact started to lose some weight as a result of the disease!
Currently, we are monitoring Marmalade's gums and 4 remaining teeth. I give her an oral wash twice a week just to keep her gums healthy. As for how things have changed for Marmalade, not one thing changed. She eats the exact same food as when she had a mouth full of teeth! She plays with Ranger just the same. Well, there was one change I did not expect. Marmalade is happier than I have ever known our already happy and cheerful Marmalade! She walks with more pep! She meows with more joy! She loves with even more love!
I have said it before, but I will say it again, if you notice bad breath or anything else that seems odd with your pet, please take them to see their veterinarian right away. Sooner is always better than later!
Thank you Riverview Animal Clinic for making Marmalade feel so much better! Thank you to MomaKat Rescue for rescuing Marmalade and allowing us to love Marmalade forever!