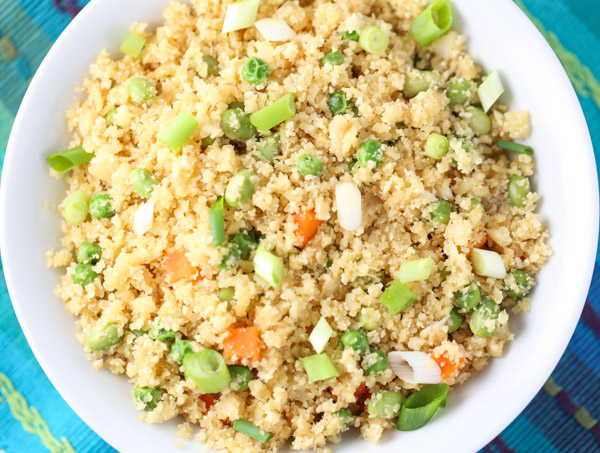 Often times when we order Chinese takeout, I order the vegetable fried rice. It is a classic, and I love the mixture of vegetables in the dish. Recently, I wanted to have fried rice from home, but I wanted to lower the carbs. So, that is where the cauliflower came into the picture. The same fried rice flavors but using cauliflower in place of the rice.
I recently posted a recipe for Cauliflower Rice, and I absolutely loved the texture. Ever since, I have been trying out cauliflower rice in different recipes. This Cauliflower Fried Rice turned out delicious, and I wanted to share the recipe with you.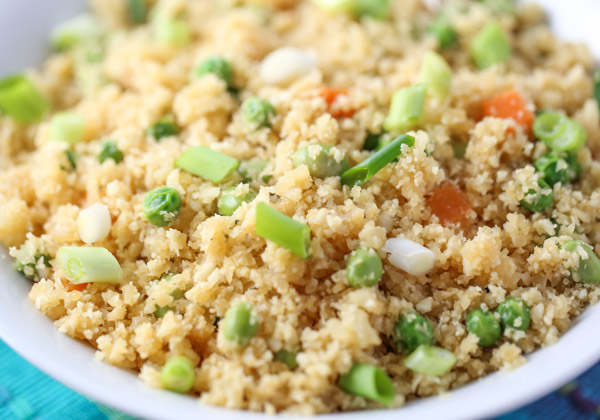 You can certainly switch up the vegetables to your liking. I did not use egg in this recipe, but feel free to scramble an egg and mix in the dish before seasoning with the soy sauce. Speaking of soy sauce, I always try to use low sodium soy sauce, tamari or liquid aminos. If you have never tried liquid amimos, it is not soy sauce, but taste just like it.
To add some protein, I added shelled edamame. The edamame has a great texture and complements the fried rice vegetable mixture. Feel free to use other vegetables, such as broccoli, corn, mushrooms, etc. The sesame oil adds such a great hint of nutty flavor. I don't use much because sesame oil can take over a dish real quick. The cauliflower rice is delicate and absorbs the flavors that you use to season. Therefore, I recommend to go easy on the sesame oil. You can always add more at the end.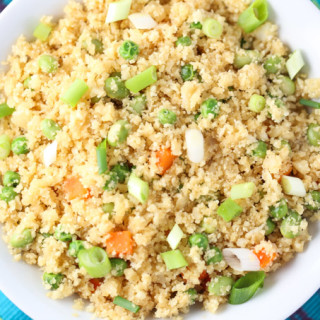 Cauliflower Fried Rice
A low carb version of fried rice.
Ingredients
1

head cauliflower

2

T

vegetable oil

1/4

t

sesame seed oil

optional but so worth it

1

small onion

diced

3/4

cup

frozen peas & carrot mixture

thawed

1/2

cup

frozen shelled edamame

thawed

3

T

low-sodium soy sauce

tamari or liquid aminos (or to taste)

salt and pepper to taste

chopped green onions

for topping
Instructions
Roughly chop the cauliflower and place in a food processor. Pulse until the cauliflower is chopped into rice size pieces. Set aside.

Heat the vegetable oil and sesame oil (if using) over medium-high heat in a wok or large skillet.

Add the onion, and cook for 2-3 minutes until softened.

Add the peas & carrot mixture and edamame. Cook and stir for 1 minute.

Add the cauliflower rice. Cook and stir for around 5-7 minutes or until the cauliflower is cooked and tender.

Add the soy sauce, tamari or liquid aminos and stir to incorporate. (Depending on your taste, you may want to add more or use less.)

Season with salt & pepper.

Serve in individual bowls topped with green onions.