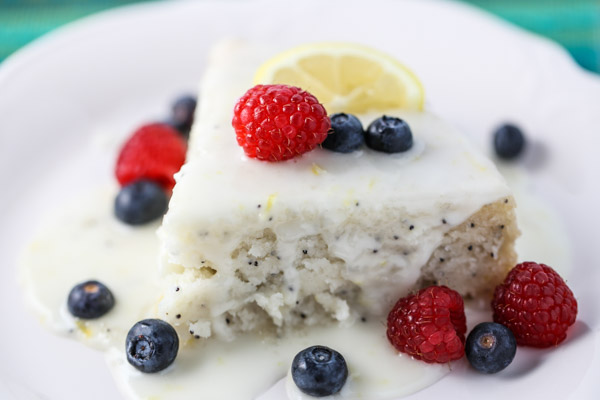 This Vegan Lemon Poppyseed Cake is one amazing cake! I love to discover desserts that are vegan-friendly, but the gluten-free factor has been a challenge for me with cakes. We do not have a gluten intolerance or a need to avoid gluten in our home, so I have not had to be strict with gluten-free foods. However, I have had friends and their families that have had to avoid gluten for one reason or another. So, I have been on a search for a gluten-free cake and finally found one that gets all thumbs up in our home!
I searched and found this cake over at The Domestic Rebel. I was sold on how Hayley described her cake. This cake has one of the most delicate textures and most delicious lemon flavors! The fresh lemon juice and zest make all the difference in this cake!
This cake is very delicate in the texture. With that being said, do not get upset if the cake breaks a little when you add the glaze. You can always cover the breaks with berries! Nevertheless, if you are looking for a vegan and/or gluten-free cake, look no further! If you are just looking for a delicious cake, look no further! This Vegan and Gluten-Free Lemon Poppyseed Cake is an absolute zesty and sweet delight!