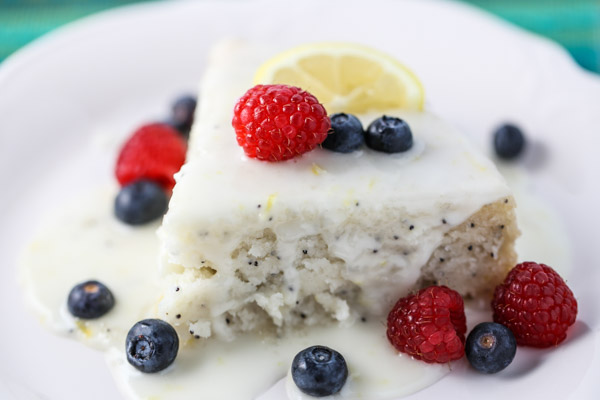 This Vegan Lemon Poppyseed Cake is one amazing cake! I love to discover desserts that are vegan-friendly, but the gluten-free factor has been a challenge for me with cakes. We do not have a gluten intolerance or a need to avoid gluten in our home, so I have not had to be strict with gluten-free foods. However, I have had friends and their families that have had to avoid gluten for one reason or another. So, I have been on a search for a gluten-free cake and finally found one that gets all thumbs up in our home!
I searched and found this cake over at The Domestic Rebel. I was sold on how Hayley described her cake. This cake has one of the most delicate textures and most delicious lemon flavors! The fresh lemon juice and zest make all the difference in this cake!
This cake is very delicate in the texture. With that being said, do not get upset if the cake breaks a little when you add the glaze. You can always cover the breaks with berries! Nevertheless, if you are looking for a vegan and/or gluten-free cake, look no further! If you are just looking for a delicious cake, look no further! This Vegan and Gluten-Free Lemon Poppyseed Cake is an absolute zesty and sweet delight!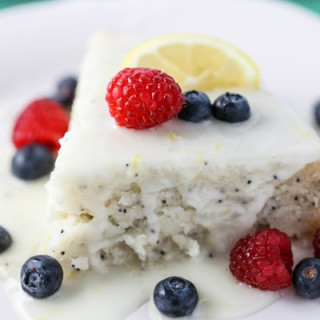 Vegan Lemon Poppyseed Cake (Gluten Free)
A vegan and gluten free cake filled with zesty lemon and poppyseeds.
Ingredients
Cake

1

package Bob's Red Mill Gluten Free Vanilla Cake Mix

Betty Crocker also offers gluten free cake mixes if you cannot find Bob's Red Mill GF cake mix

3/4

cup

unsweetened applesauce

1/2

cup

vegetable oil

1/2

cup

water

room temperature

Juice of 1 lemon

Zest of 1 lemon

1

T

poppy seeds

Glaze

2

cups

powdered sugar

gluten-free

Juice of 1 lemon

approx. 1/4 cup

Zest of 1 lemon

Garnish

Lemon slices

raspberries, blueberries, etc.
Instructions
Cake
Preheat oven to 325 degrees.

Grease a 9 inch round cake pan with cooking spray. Set aside.

In a large bowl, add the cake mix, applesauce, vegetable oil, water, lemon juice and lemon zest. Mix with an electric hand mixer on medium for 1 minute or until fully combined. Add the poppy seeds and stir until distributed throughout the batter.

Pour the batter into the prepared cake pan. Bake for 25 to 30 minutes or until a toothpick inserted in the middle comes out clean. Cool completely in the pan.

Once cool, turn over onto a plate to add the glaze.
Glaze
In a medium bowl, add the powdered sugar, lemon juice and lemon zest. Stir with a whisk until smooth. The glaze should not be thin but thick yet pourable. If the glaze needs to be thicker, slowly add more powdered sugar. If the glaze is too thick, add little more lemon juice.

Drizzle the glaze over the cake and spread to cover the entire top and allow the glaze to drip off on the sides. Garnish with lemon slices and berries.