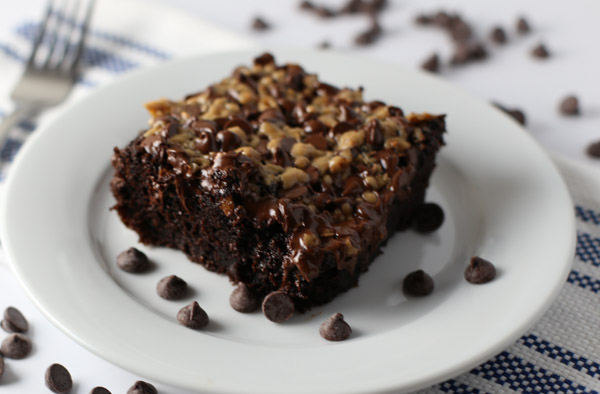 Chocolate…Chocolate…Chocolate!!! You can't go wrong with Chocolate pudding, Chocolate cake mix and Chocolate chips! Especially when they are all in one dessert! This cake is one of the easiest cakes I have made. It is delicious on the day made, but it gets even more delicious the second day! You can practically eat this cake with a spoon. I can speak from experience!
I found this recipe over at Brown Eyed Baker and pinned it immediately. I followed the recipe other than omitting the walnuts and replaced them with toffee bits. I might try peanut butter chips in place of the toffee bits next time, or maybe both. Yum!! I love walnuts, pecans, almonds, etc., but not with my chocolate desserts. No nuts in my chocolate cakes, chocolate chip cookies, brownies, fudge … What can I say? I'm just weird! Feel free to put  1/2 cup chopped walnuts if you want to. One way or another, this cake is chocolate goodness!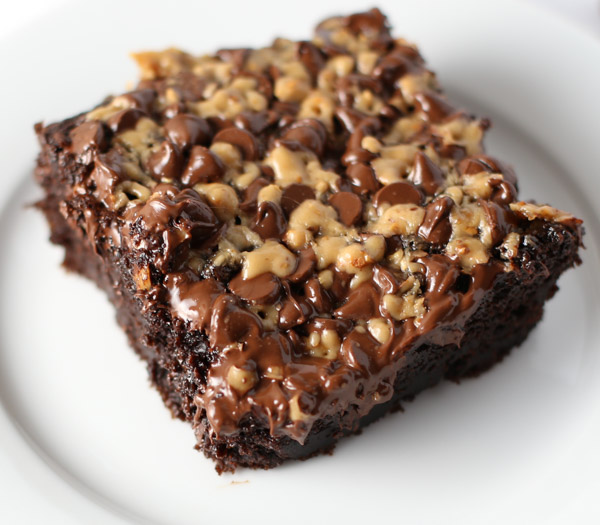 Triple Chocolate Cake
A moist chocolate cake that can even be eaten with a spoon!
Ingredients
1 5-

oz

box of cook & serve chocolate pudding mix

do not use the instant pudding mix

3

cups

milk

I used whole milk

1

box chocolate cake mix

12-

oz

2 cups semisweet chocolate chips

1/2

cup

toffee bits

1/2 cup walnuts can be used in place of the toffee bits
Instructions
Combine the chocolate pudding mix and milk in a small saucepan. Cook over medium heat, stirring constantly. The mixture will be ready once the it thickens and bubbles just begin to form.

Remove the pudding mixture from the heat and pour it into a large mixing bowl. Gently press wax paper on the top of the pudding mixture and cool to room temperature.

Preheat oven to 350 degrees. Grease a 9x13 baking dish.

Remove the wax paper from the pudding and stir the mixture a little.

Add the chocolate cake mix to the pudding mixture. Combine the ingredients and make sure there are no dry cake mix spots.

Pour the batter into the prepared baking dish and smooth the top.

Sprinkle the top with the chocolate chips* and toffee bits (or walnuts). * The chocolate chips soften but they do not melt.

Bake for 30 minutes or until a toothpick inserted in the middle comes out clean.

Allow the cake to cool before serving.

Enjoy!

Store the cake in the refrigerator covered tightly with plastic wrap or in an airtight container.
Enjoy!!