Welcome to a brand new year! The start of a new year gives us the mental fresh start. I am not one to set new year resolutions, but I do focus on certain objectives for the year. Although I have always focused on a balanced diet consisting of mostly healthy foods throughout the year, the new year is a good time to focus on a few healthy options. Considering we are just coming out of the holiday season where we may have overdone it on the rich foods and delicious desserts. I think this Spicy Kale and Quinoa Salad is a perfect option!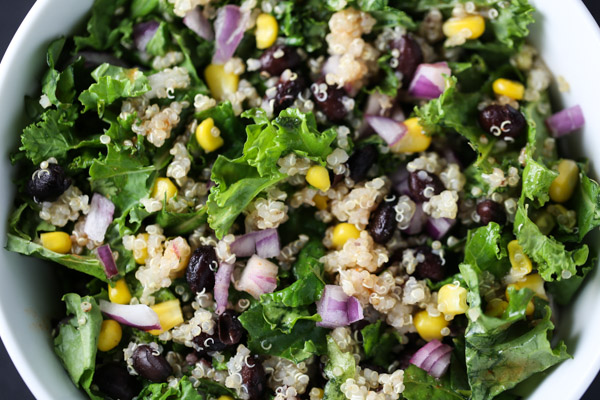 I love to eat salads for the main dish, but they must have substance and flavor! I found this Spicy Kale and Quinoa Salad over at The Glowing Fridge. The Spicy caught me attention right way. The ingredients in the salad alone are some of my favorites, but the dressing is the key. Be sure to use your favorite hot sauce because that will make all the difference. What I also love about the dressing is there is no oil!
You get great wholesome and healthy ingredients along with amazing flavor and definite spice. I will emphasize the spicy in this salad. Instead of pouring the dressing over the entire salad, you can also serve the salad individually and add just the amount of dressing that you want. My husband likes his food spicier than I like mine, so he had a bigger helping of  the dressing than me.
This salad is great vegan/vegetarian main dish salad. The beans and quinoa add great protein. On the subject of quinoa, this enlightening article offers an abundance of information on this super-grain. If you prefer to add even more protein, feel free to add some cooked and diced chicken breast. You can also add different vegetables such as diced avocados, bell peppers, tomatoes, etc. Come to think of it, I am definitely adding some diced avocados when we have this salad again!