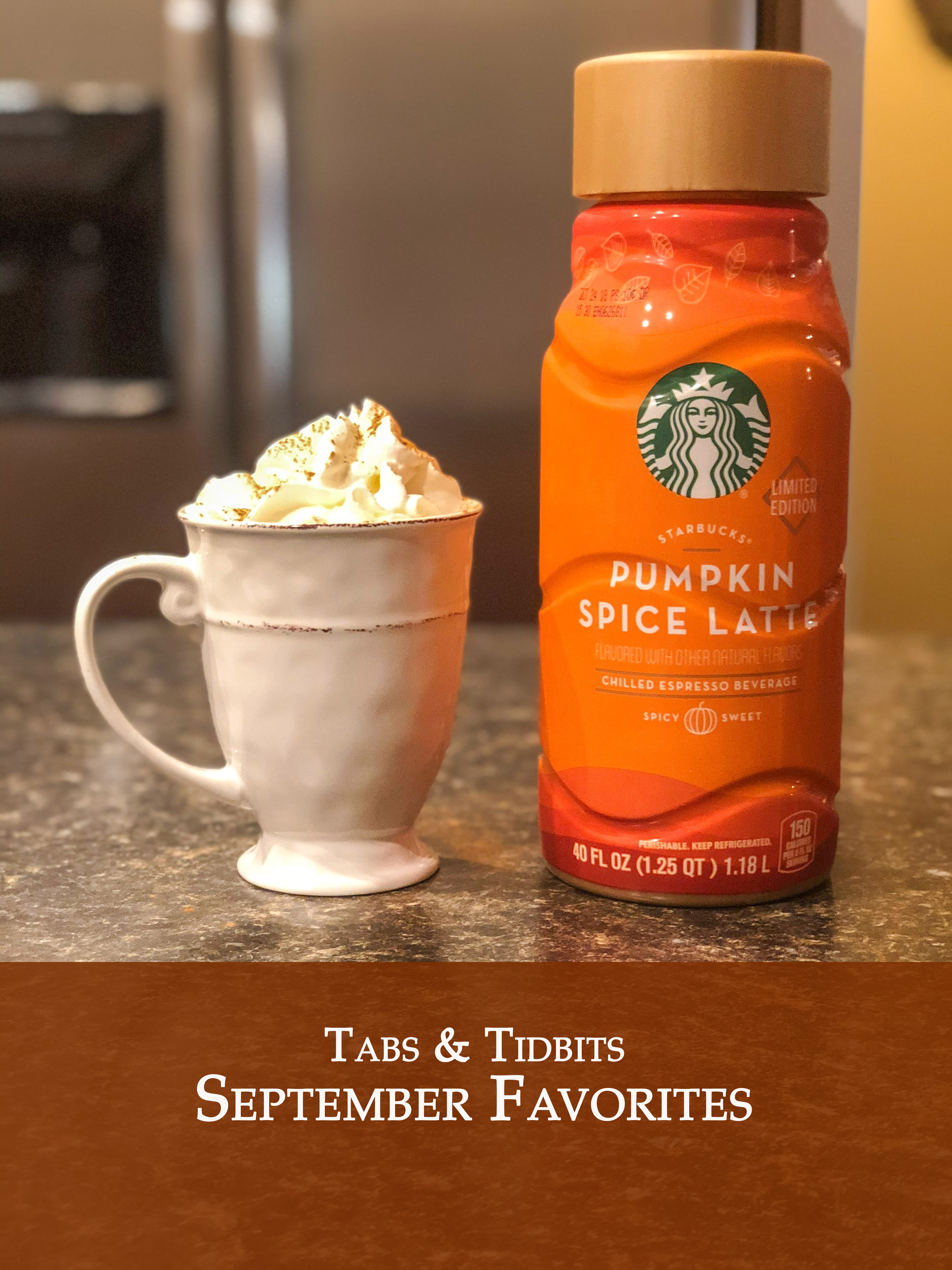 Welcome to another Tabs and Tidbits favorites edition. As you can see Pumpkin Spice is the theme of my favorites in September! My favorites list is short and sweet, but I would rather share my tried and true than a huge list of things I have never tried or did not like. Happy Fall!
You can enjoy Starbucks Pumpkin Spice Latte in the comfort of your own home! We can get 4 to 6 servings out of this bottle for the same price as 1 PSL at Starbucks! You can serve this cold or hot! I love mine hot with whipped cream and cinnamon sprinkled on top! Thanks, Mom, for  sharing this discovery with me! I am now hooked!
I am a huge doughnut fan and Krispy Kreme is one of our favorite doughnut shops! They recently released the Pumpkin Spice Cake Doughnut! A delicious hot cup of coffee and these PSL cake doughnuts are a perfect fall combination!
I love Nut Pods non-dairy creamer. They offer the creamiest non-dairy option for my coffee while also remaining unsweetened. They are now selling their seasonal Pumpkin Spice Nut Pods Unsweetened Non-Dairy Creamer which is delicious, but it often sells out fast. If you are thinking about getting some, I would recommend getting them sooner than later!
I am a huge fan of the television show This Is Us on NBC. So, while I watch season 3, I will be enjoying my Starbucks Pumpkin Spice Latte or fresh brewed coffee with some Pumpkin Spice Nut Pot Creamer along with a couple of Krispy Kreme Pumpkin Spice Cake Doughnuts!
I hope you all have a wonderful rest of September!