It's that time of year where we enjoy bowls and bowls of chili. There are so many versions of delicious chili. But here today, I am going to share with you one of the easiest and delicious vegetarian chili recipes we enjoy at Tabs and Tidbits. Flavorful, fast and super satisfying is how I describe this chili.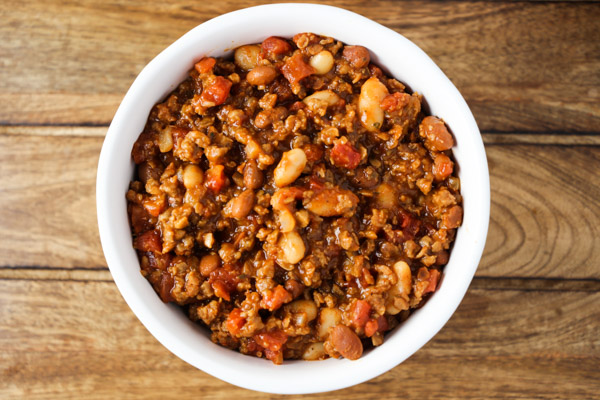 This chili is a filling chili. For the non-vegetarians, I encourage you to give this chili a try with the frozen vegetarian burger crumbles. You just pour them in, and they heat up in the chili. No need to brown and drain the grease. However, if you would rather make this chili with you favorite ground beef, turkey or chicken, I am sure it would still be a winning chili dish in your home. Just use 1lb to 1 1/4 lb of the ground meat of your choice. Omit the oil, and brown  the meat with the chopped onions over medium heat. Drain the grease and follow the remaining instructions, omitting the step of adding of the vegetarian burger crumbles.
I like to top this chili with a nice serving of grated cheese, green onions and tortilla chips. You are not limited to your toppings such as sour cream, sliced jalapeños, diced tomatoes, etc.
Print Recipe
Easy Vegetarian Chili
An easy to make vegetarian chili that is full of flavor.
Ingredients
1

28 oz can diced tomatoes with juice (I use petite diced)

1

T

olive or vegetable oil

1

small onion

diced

1

15 oz can white beans, rinsed and drained (I use cannellini beans)

1

15 oz can chili beans, with liquid (I use the medium spice)

1

1.25 oz package reduced sodium taco seasoning mix

1

1 oz package ranch dressing mix

1

12 oz package of frozen vegetarian burger crumbles (i.e. Boca, Gardein)
Instructions
In a large pot over medium heat, heat the oil. Add the chopped onions and saute until softened (around 2 to 3 minutes). Add the tomatoes, white beans, chili beans, taco seasoning, and ranch dressing. Stir and cook on medium heat. Bring to a boil and then reduce heat to medium low. Stir in the burger crumbles and continue to cook until heated through.

Serve in individual bowl topped with your favorite chili toppings such as cheese, sour cream, green onions, tortilla chips, etc.