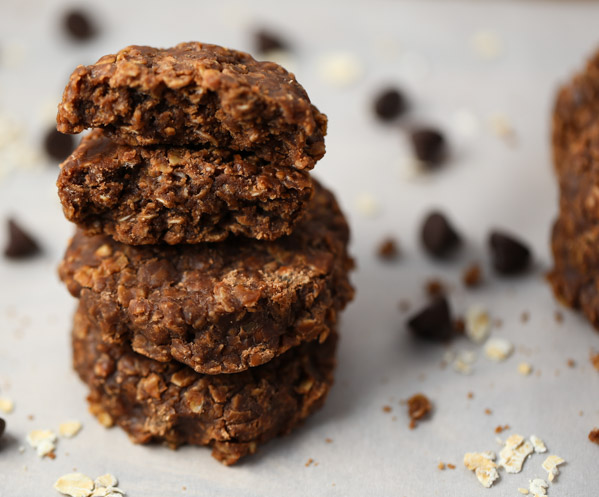 These Classic No Bake Cookies go back a long way. I am not sure when these cookies first made an appearance, but I have been enjoying them since childhood when my mom would make a batch for us. No baking required. Just a few minutes on the stove top and a little patience for them to cool, and you have yourself the Classic No Bake Cookie! 🙂 Chocolate, peanut butter and oatmeal are the star ingredients in these cookies. It's no wonder that these cookies have withstood the test of time!
You have probably had No Bake Cookies at some point. If not, you have to try these! The recipes fluctuate just a little, but they all pretty much share the same ingredients, just a slight change in the amounts of each ingredient. This recipe started with 1/2 cup peanut butter, but I always find myself adding more peanut butter when I can. So, the recipe evolved into adding  3/4 cup peanut butter. For me the more peanut butter the better!
I can go overboard on cookies! These easy to make cookies have a great texture and are filling from the oatmeal. Fortunately, I don't go too far with these cookies considering they also have butter and sugar!