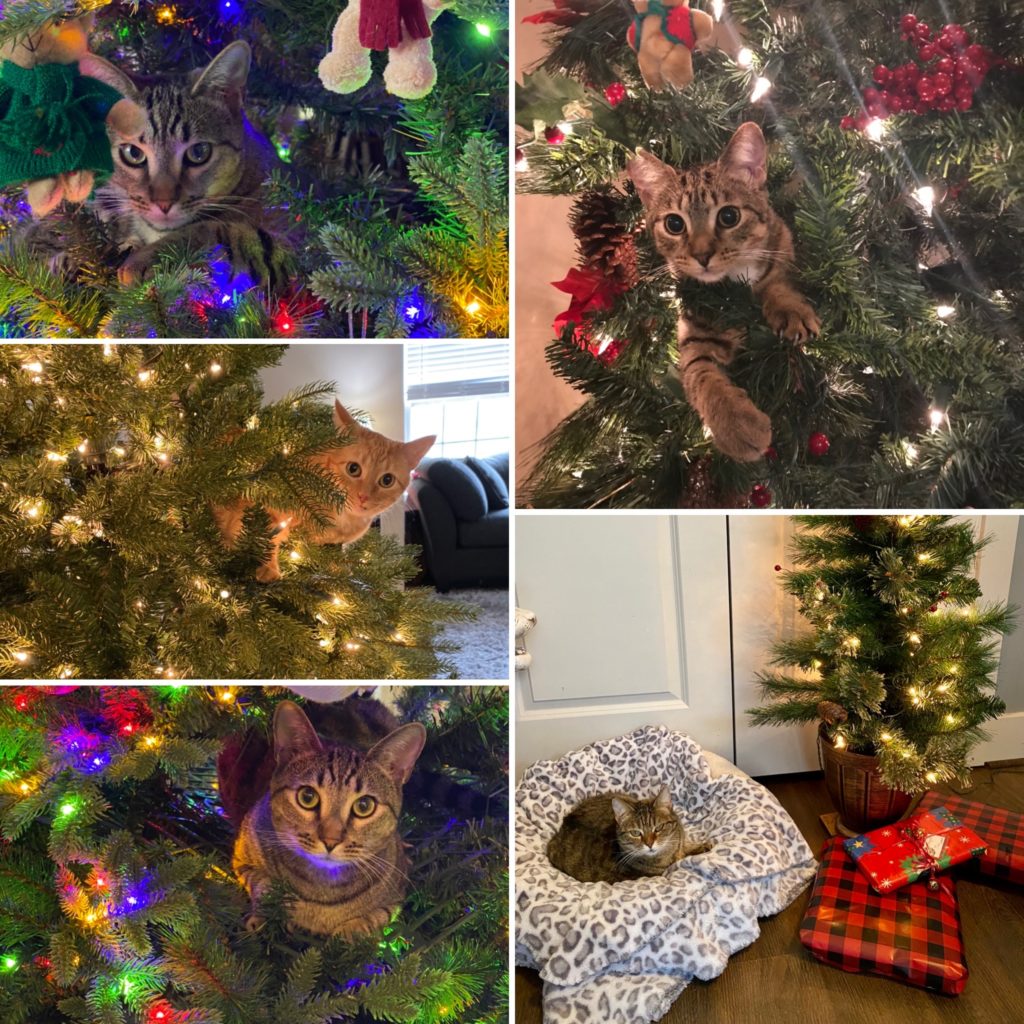 My phone is filled with photos of our cats in the Christmas tree over the past few years. As much as we try to find to deter them from the tree, that near impossible especially when we put dangling toys on the tree. So, why not take a quick photo before getting them out of the tree!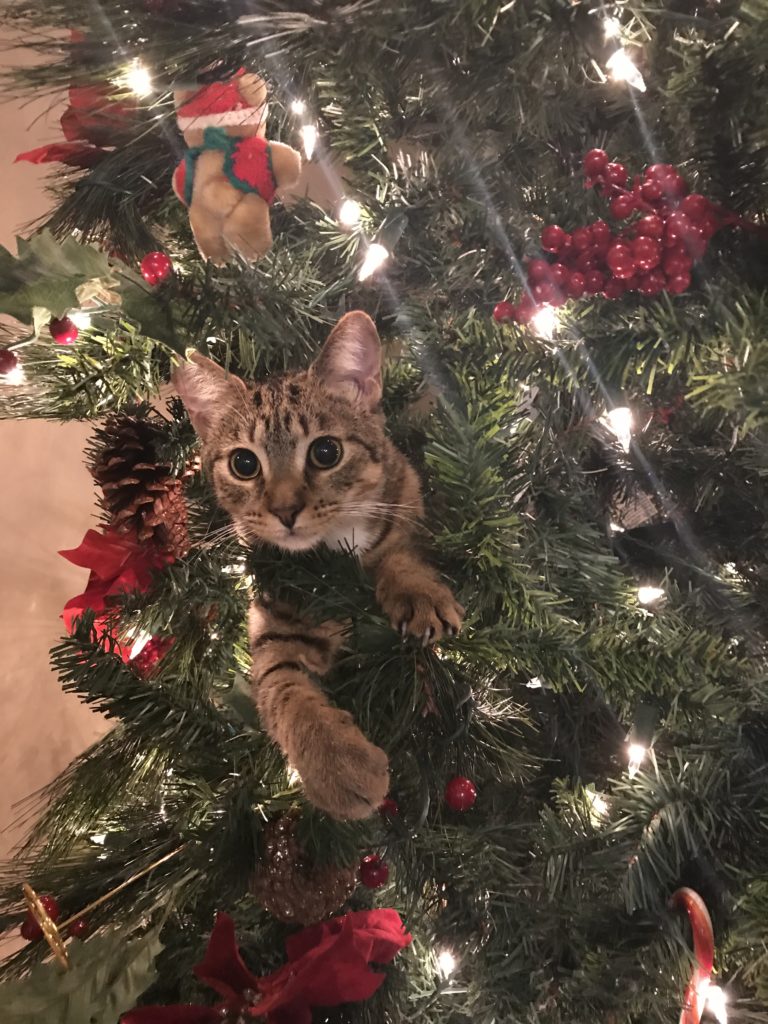 Ranger used to be our overly adventurous cat. I used to call him "Ranger Danger" with all of the stunts he pulled. Ranger was always in the tree. This year Ranger passed the stunt torch to Latte and Cappuccino.
Marmalade is our perfectly behaved girl. She rarely looks for trouble. That is until this stealth ginger knows your not watching. I only have a few photos & videos of Marmalade in the Christmas tree because when I would catch her, she would jump down. However, she was rarely caught in the act!
Cappuccino holds the rank for our most adventurous and fearless cat. He takes daily climbs in the Christmas tree. He doesn't care if he is caught in the tree, and he will actually pose for photos in the tree.
Latte is a very close second to be most adventurous. He was the first to climb the Christmas tree this year. He also takes daily walks through the tree and takes down a few ornaments in the process.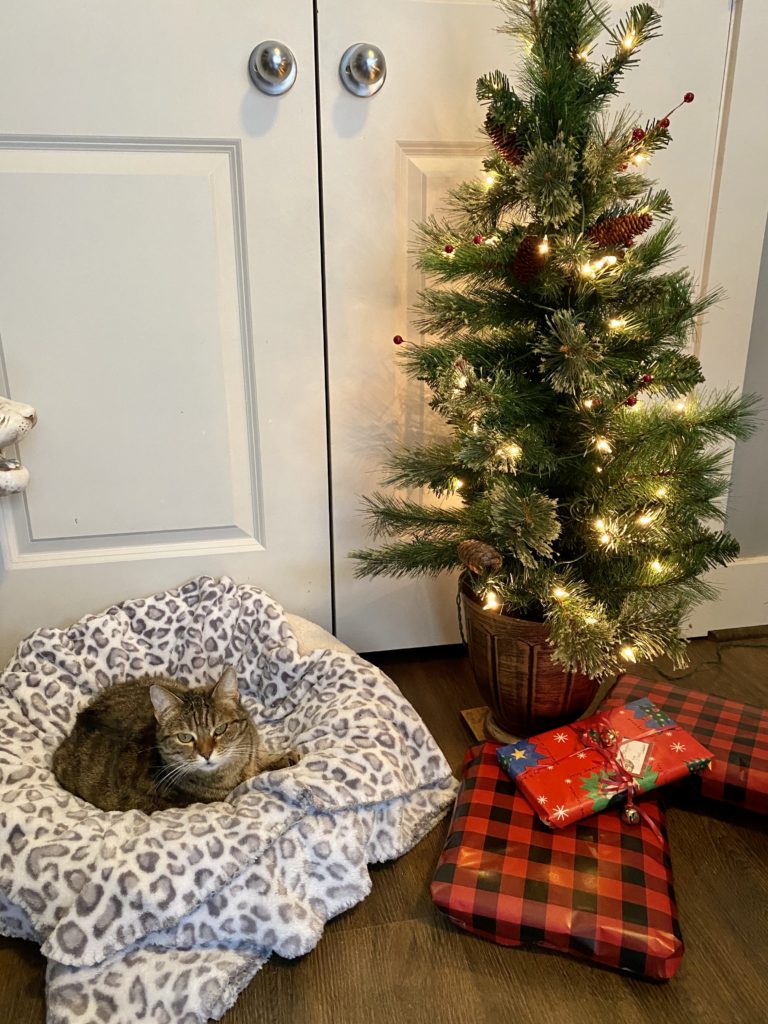 Maggie is our only cat that has yet to climb the Christmas tree. Although Maggie has a sneaky side, she tends not to jump on counters nor shows interest in the tree. She even has her own little Christmas tree in her room.

Full disclosure, I realize Christmas trees are not 100% safe for cats. Cappuccino and Latte do not have access to the Christmas tree at night and when we are not home. Last year, Latte literally wrapped himself in the wires on the tree. He panicked making the wire so tight around his waist that the only choice I had was to cut the wire. I was sitting six feet away from him when this happened, and it happened in a blink of an eye.
We do not use hooks for the ornaments, and all ornaments are either plastic or stuffed. We do not use tinsel, and we only put up artificial trees. It's not perfect, but we try to find a happy medium.

We hope you have a happy holiday this year, and we wish you all a happy Tabby Tuesday! ❤️❤️❤️❤️❤️