Oreo Truffles are sweet and decadent chocolate treats! I have seen these truffles all over Pinterest and on several blogs for some time. Surprisingly, I had never had them. They never made an appearance at a baby shower, birthday party, holiday party… Not once! 🙁 So, instead of waiting around to try these chocolate treats, I decided to make them. 🙂 I know, I  have been missing out! If you have not had these little gems, let me introduce you to the Oreo Truffle!
I had heard of Oreo Truffles. My husband had never heard of them. He was curious about these candies. Once he took a bite, he was hooked just like me.
Confession: I did not make an entire batch of Oreo Truffles to take to a party or give as gifts. I made them for my husband and myself to enjoy all by ourselves. Over the course a week, the truffles slowly disappeared.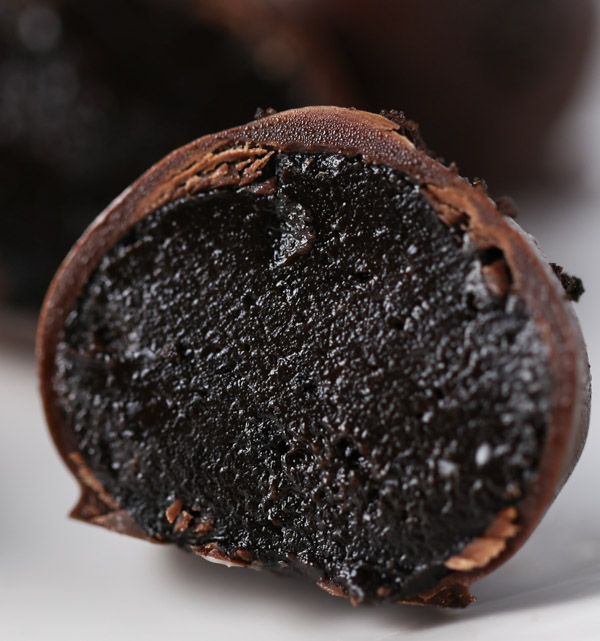 Whether you want to make these for you self and family or give as a gift or even bring to a party, there Oreo Truffles will be a treat for everyone!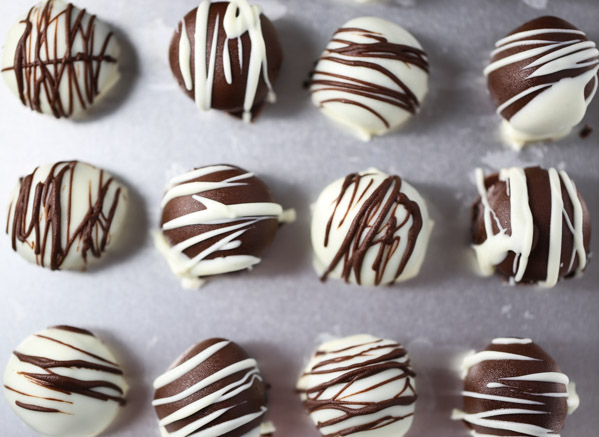 Print Recipe
Oreo Truffles
Chocolate coated truffles made with Oreo cookies and cream cheese.
Ingredients
36

14.3-oz package Oreo cookies (original Oreos not double stuf) plus more for topping if desired

1 8-

oz

cream cheese

softened

16- 24

oz

melting chocolate

milk chocolate, dark chocolate, white chocolate I used a 12-oz bag of white chocolate and 12-oz bag of dark chocolate melting chocolate wafers.
Instructions
Lay wax paper over a large cookie sheet and set aside.

Crush the extra Oreo cookies if you want to use some as a topping. Set aside.

Place 36 Oreo cookies in a food processor and pulse until all cookies are in fine crumbs. Pour the Oreo crumbs into a large bowl and add the softened cream cheese. Mix with an electric mixer until fully combined. Scoop 1 tablespoon of the mixture at a time and form 1 inch balls. Place them on the prepared cookie sheet. Place the truffles in the freezer for 20 to 30 minutes.

Melt the chocolate according to the package directions.

Remove the truffles from the freezer and dip each truffle in the melted chocolate. (I like to place the truffle on a fork and use a spoon to pour the melted chocolate over the truffle to fully coat.) Allow the excess chocolate to run off, and gently place the chocolate covered truffle back on the cookie sheet. Immediately sprinkle the crushed Oreo over the top if using. Allow the chocolate coated truffle to set if you want to drizzle some melted chocolate over the top instead.

Store the Oreo Truffles in the refrigerator.

Enjoy!