Introducing Maggie! She is my precious foster kitty for as long as she needs. Maggie has a background that we will never really know the whole story. However, one thing is for sure, Maggie is destined for love and happiness and full of infinite cuddles from this point forward!
Maggie is not new to my foster room. Maggie was actually rescued by MomaKat Rescue several months ago from a shelter where she had delivered 4 kittens. Someone in Maggie's life did not take the responsibility having Maggie spayed. However, that someone did take the time to drop Maggie off at a high-kill shelter when she was about to deliver her kittens. Sadly, all 4 of Maggie's kittens passed away within 1 week of being born. But, Maggie became is a surrogate mother to 4 litters of foster kittens that lost their own mother!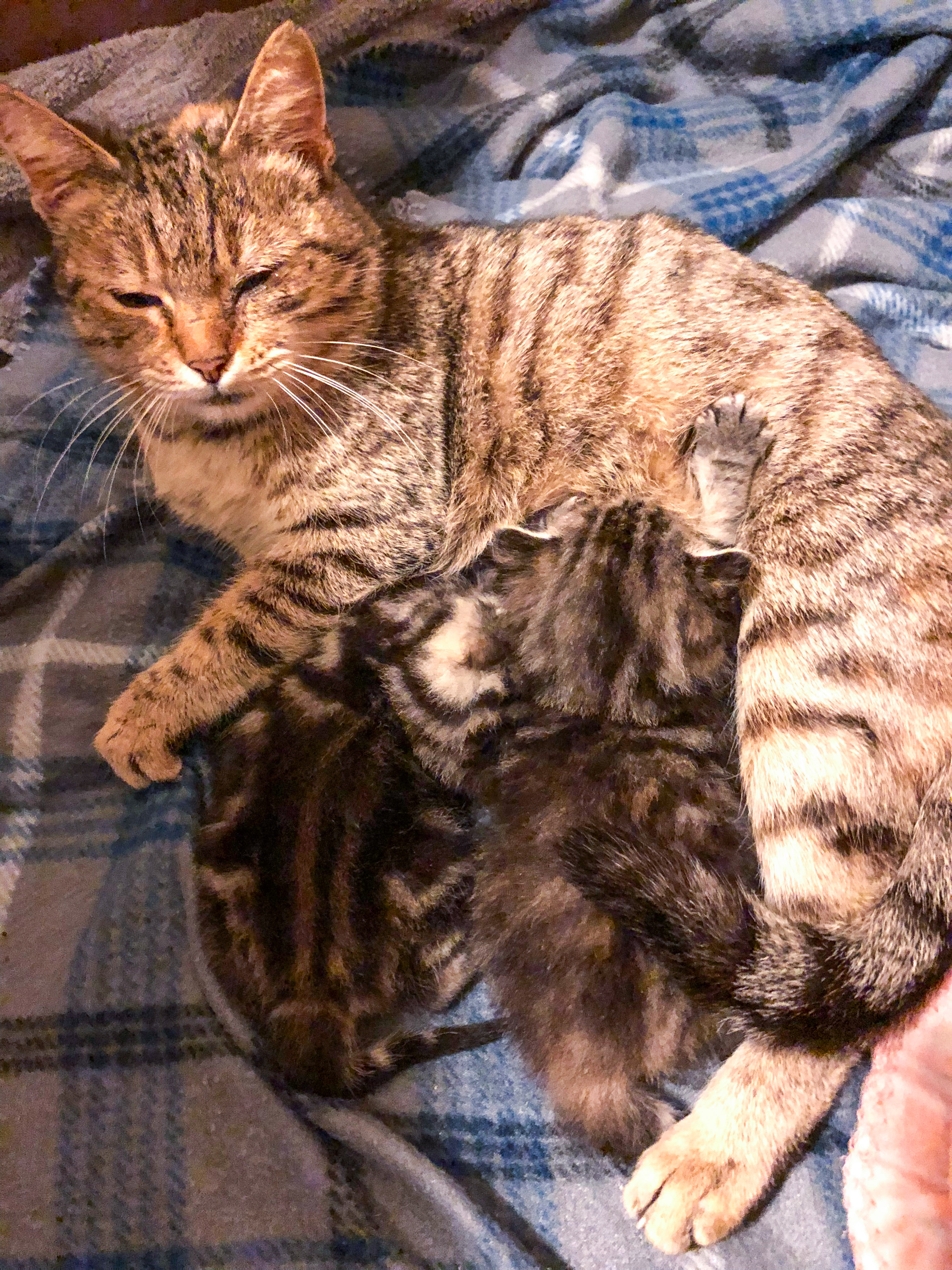 Kit and Kat were her first of her 4 litters of kittens that she lovingly took under her wings as her own and gave them the nourishment and love they lost from their mother.
Maggie left my house for several months and was taken care of directly by MomaKat Rescue while I fostered a pregnant Ebony and eventually her 3 kittens. Maggie went on to care for 3 more litters of kittens wile she was at MomaKat Rescue. Thanks to Maggie, Kit and Kat were eventually adopted to their forever families along with all of the kittens she took under her care.
After Ebony was adopted and her kittens went to stay with MomaKat Rescue, I had space and time for Maggie! After Maggie was finished taking care of kittens and was spayed, we soon realized all Maggie knew was survival and being a mother. Maggie did not know what toys were. She knew very little affection from people. It was heartbreaking to imagine what her life once was. But, we were going to give Maggie the unconditional love and care that she deserved!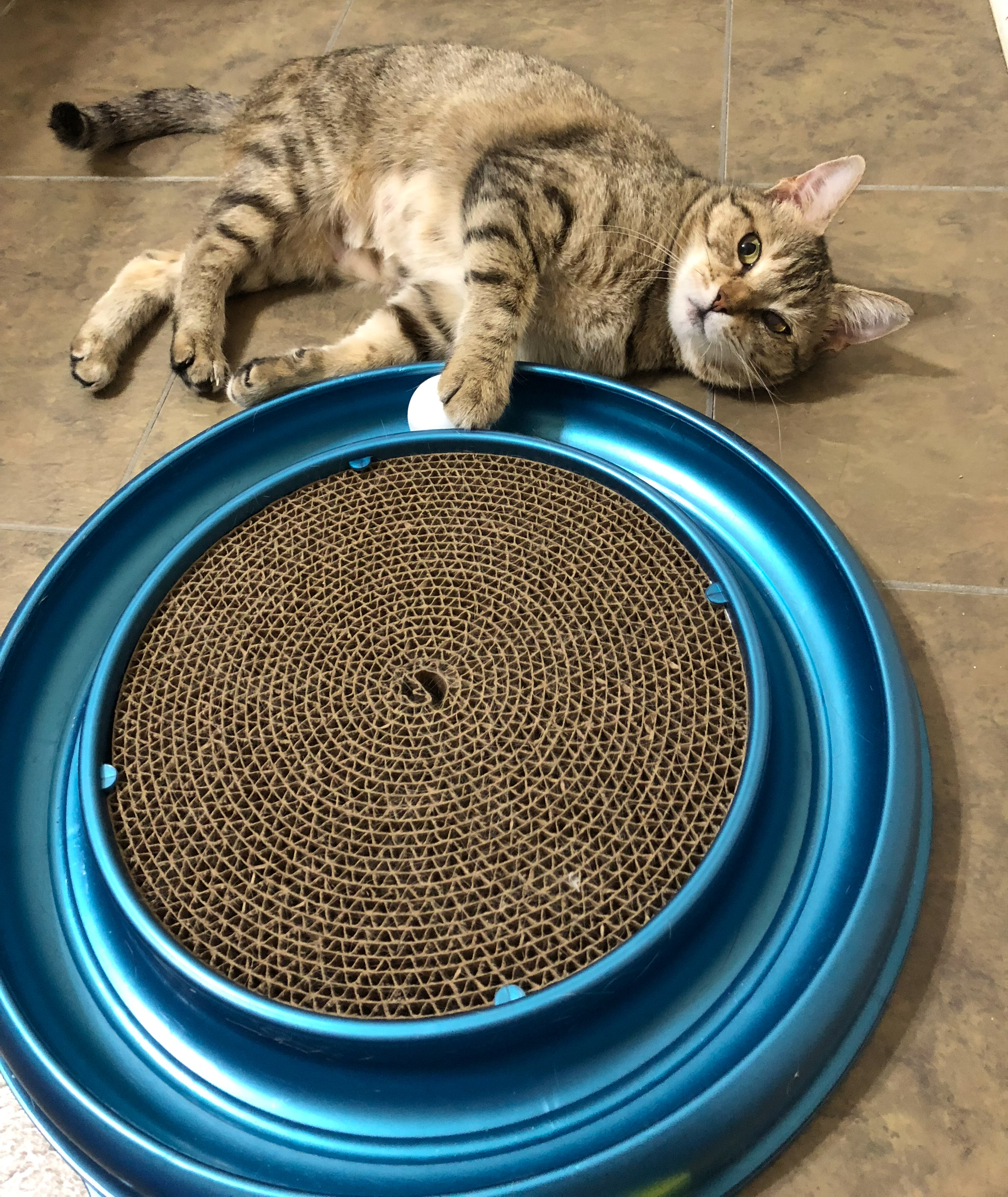 Maggie is a kitten herself. She is under the age of one, but she was never allowed to be the kitten she should have experienced. But, with a  lot of tender loving care, Maggie would soon show us the kitten she had hidden away deep inside!
Maggie had to learn that being picked up was not an act of aggression, but rather an act of care and affection. Maggie had to learn that a hand reaching for her head was not to harm her but was to only softly pet her soft hair and show love. Each day, Maggie has learned that the people she is now surrounded by are protecting her from people that have neglected her and failed her.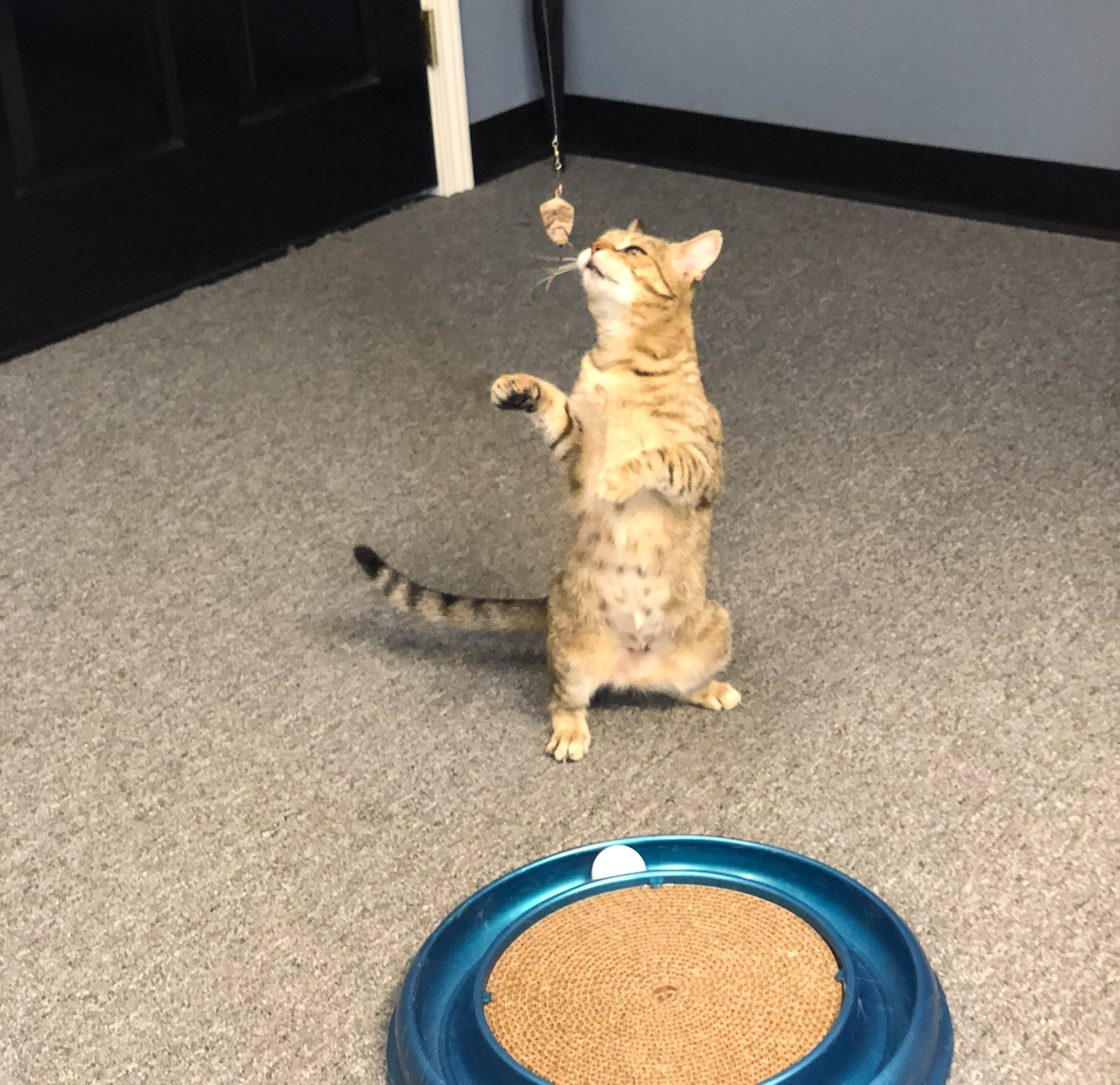 Maggie went from a scared and neglected cat to a playful and loving kitten! She has learned that all of the stuffed animals, balls, fake mice, cat springs, things stuffed with catnip just so happen to be called cat toys; and they are all for her to have fun with!
Maggie was rescued from imminent death and she went on to save kittens when they needed help the most. Now Maggie is ready for her forever home. But, Maggie can take all the time she needs to find the right family for her. I am not in a hurry to let this precious girl go!