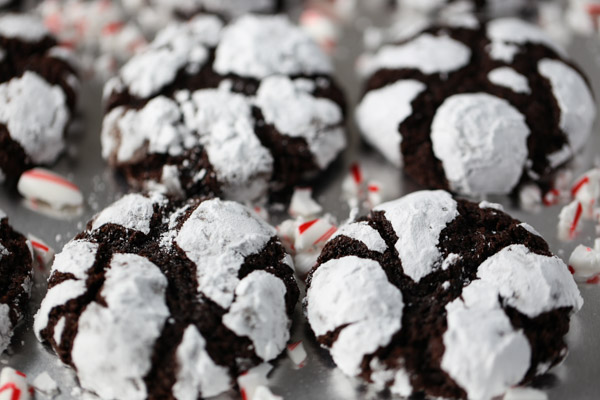 I love chocolate crinkles!! The moist and chewy chocolate cookie coated with the bright white crackle of powdered sugar. They are delicious and I am always delighted to see them on a cookie tray or at the bakeries. I wanted to change the traditional chocolate crinkle up a little and make it a Chocolate Mint Crinkle. I have to say the mint makes this chocolate crinkle cookie irresistible!
For a long time, I only went to the bakery to get my hands on chocolate crinkles. I figured there was a complicated method to get the crinkled look to these cookies. I finally decided to give these cookies a try at home, and surprisingly these cookies are not hard to make. The only hard part is being patient and letting the dough chill, but that is a crucial step. The wait is well worth it!
I like a rich and dark chocolate for these cookies, so I used a dutch processed cocoa. If you don't have dutch processed, Hershey's has a Special Dark cocoa that is really good.
If you want a traditional chocolate crinkle cookie, you can omit the peppermint extract and use 2 teaspoons vanilla extract instead on the 1 teaspoon vanilla extract. One way or another, these cookies are so chewy and moist, I bet you can't eat just one!