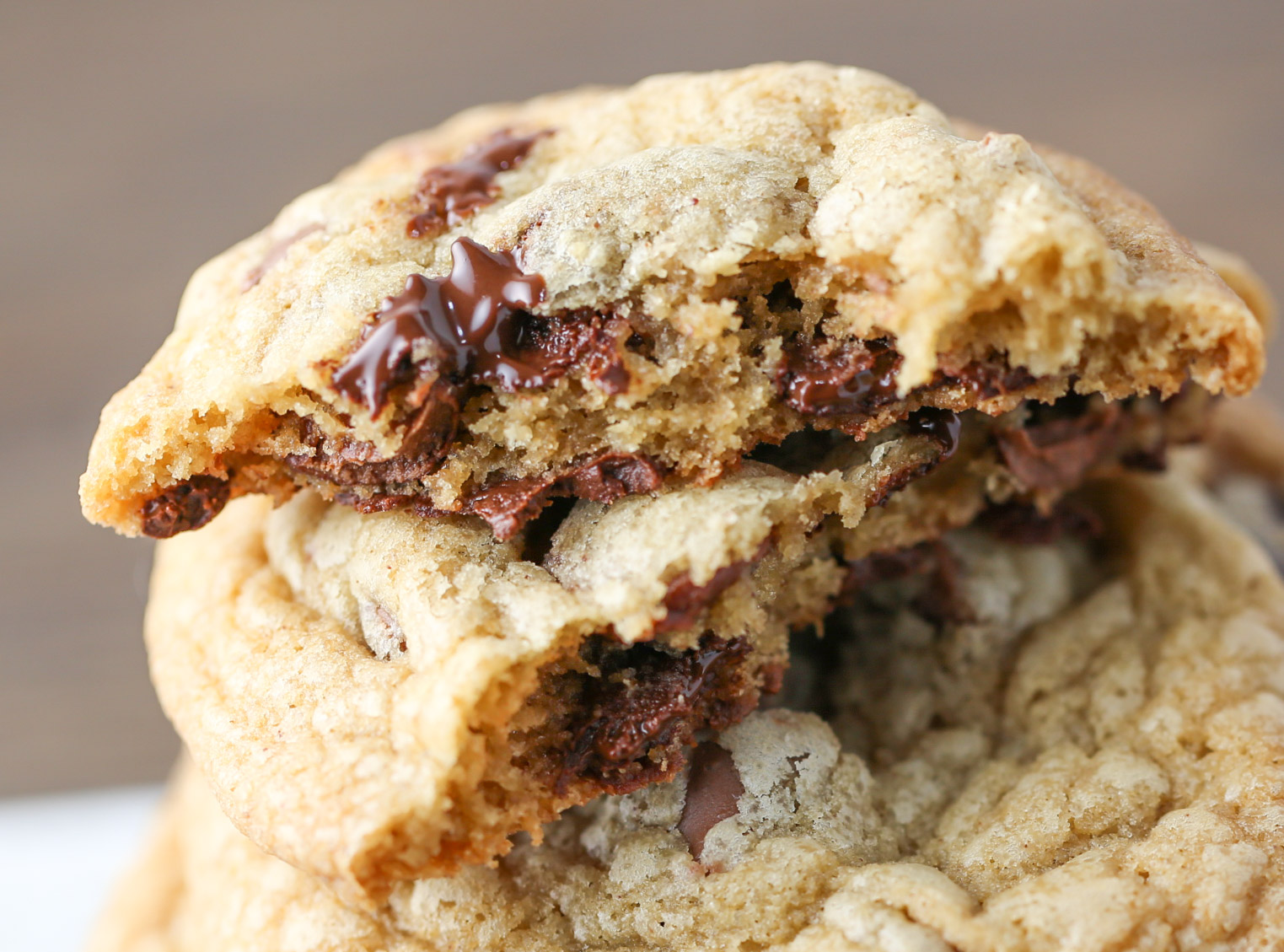 There is nothing more classic than the chocolate chip cookie! These Chocolate Chip Cookies deliver on the moist and chewy interior and buttery crisp edges and loaded with rich chocolate!
There are so many ways to make a chocolate chip cookie. I turned to the always reliable recipe source in  America's Test Kitchen New Family Cookbook.
The buttery toffee flavor in the cookie dough is from the crucial step of browning the butter! It is tempting just to add melted butter, but by taking the extra time to brown the butter, makes all of the difference! Another recommendation is to make sure to use dark brown sugar to get the extra depth of flavor. You can certainly use light brown sugar, but the dark brown sugar provides a delicious flavor profile!
The recipe recommends using semisweet or bittersweet chocolate chips. I have always used milk chocolate chips as well as using several types of chocolate chips. Honesty, you cannot go wrong on chocolate, so use what you like.
Print Recipe
Chocolate Chip Cookies
These Chocolate Chip Cookies deliver on the moist and chewy interior and buttery crisp edges and loaded with rich chocolate!
Ingredients
1 ¾

cups

all-purpose flour

½

t

baking soda

14

T

unsalted butter

¾

cup

packed dark brown sugar

½

cup

granulated sugar

2

t

pure vanilla extract

1

t

salt

1

large egg plus 1 large yolk

1 ¼

cups

semisweet or bittersweet chocolate chips
Instructions
Preheat oven to 375 degrees. Line 2 baking sheets with parchment paper.

Whisk flour and baking soda together in a medium bowl.

Melt 10 tablespoons butter in medium skillet over medium-high heat. Continue to cook and stir the butter until it is a dark golden brown and has a nutty aroma, around 1 to 3 minutes<g class="gr_ gr_81 gr-alert gr_gramm gr_inline_cards gr_run_anim Style replaceWithoutSep" id="81" data-gr-id="81">.(</g>Do not leave unattended, for the browned butter can turn into burnt butter quickly.)

Pour the browned butter into a large bowl and add the remaining 4 tablespoons of the butter. Stir until melted.

Add the brown sugar, granulated sugar, vanilla, and salt. Stir with a whisk until incorporated. Whisk in egg and yolk until smooth with no lumps, about 30 seconds.

Let mixture stand for 3 minutes, then whisk for 30 more seconds. Repeat this process of resting and whisking 2 more times until mixture is thick, smooth, and shiny.

Add the chocolate chips and gently stir with the rubber spatula until the chips are incorporated.

At this stage, I recommend refrigerating the dough for 30 minutes. (This will help the dough to not spread to thin when baking in the oven.)

Using 2 to 3 tablespoons of dough at a time, roll into balls and place 2 inches apart on the prepared baking sheets.

Bake until golden brown and edges have begun to set but centers are still soft and puffy, 10 to 14 minutes. Rate the baking sheets halfway through baking.

Allow cookies cool completely.

Enjoy!