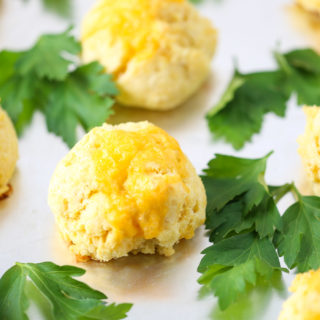 Cheesy Cornmeal Biscuits
Buttery and cheesy drop cornmeal biscuits that make the perfect addition to a hot bowl of soup or chili!
Preheat oven to 450 degrees. Cover a large baking sheet with parchment paper.

In a medium bowl, add the flour, cornmeal, baking powder, sugar, and salt. Stir to incorporate. Cut in the butter until the mixture is crumbly. (Use a pastry cutter or fork to avoid melting the butter with your hands.) Add 1/2 cup of the cheese and the milk. Stir until combined and moistened.

Drop the dough by 1/4 cups and 2 inches apart onto the prepared baking sheet. Sprinkle the remaining grated cheese over the top of each biscuit.

Bake for 12-15 minutes or until light golden brown. (Do not overbake these biscuits. They can turn from moist and delicate to dry and crumbly real fast.)

Serve warm!