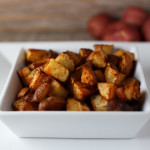 Print Recipe
Spicy Roasted Potatoes
A spicy roasted potato that is soft inside and crispy on the outside.
Preheat oven to 425 degrees.

Cut the potatoes into 1 inch pieces.

Put the potatoes on a baking sheet. Toss the potatoes with the oil and seasonings.

Make sure the potato pieces are in 1 layer and not touching so they do not steam.

Put in the oven and bake for 20-25 minutes or until crisp golden brown. (Turn the potatoes half way through baking.)

Enjoy!