Apple Crisp is a simple but oh so delicious dessert.  Tart apples coated with sugar and cinnamon and topped with the most amazing oatmeal sugary and crispy topping. I love desserts that don't require a big fuss. Simple ingredients. Easy serving! Delicious!  This Apple Crisp is definitely one of the desserts!
Apple desserts are some of the coziest desserts. Apple pie, apple cobbler, apple brown betty and off course the apple crisp. This list could go on and on.
I especially love making apple crisps because they always give that warm and cozy feeling without having to worry too much about the presentation. Let's face it, apple crisps are not the fanciest or prettiest desserts! But, serve it with vanilla ice cream and caramel sauce and it won't matter! 🙂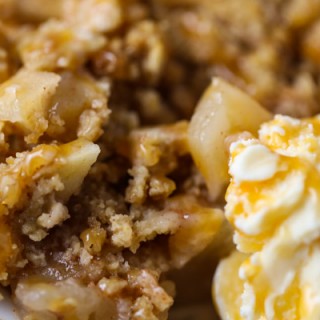 Apple Crisp
A sweet apple and cinnamon filling baked with a crisp oatmeal topping.
Ingredients
Filling

10

cups

peeled and chopped granny smith apples

about 6 to 8 large apples

1/2

cup

granulated sugar

1

T

all-purpose flour

1

t

ground cinnamon

1/2

cup

water

Topping

1

cup

quick cooking oats

1

cup

all-purpose flour

1

cup

packed light brown sugar

1/4

t

baking powder

1/4

t

baking soda

1/2

cup

butter

melted
Instructions
Preheat the oven to 350 degrees. Grease a 9x13 baking dish.
Filling
Place the chopped apples in the baking dish.

In a medium bowl, add the sugar, flour and ground cinnamon. Stir to combine. Sprinkle the sugar mixture over the apples.
Topping
In a large bowl, add the oats, flour, brown sugar, baking powder, baking soda and melted butter. Stir to combine.

Place the oat topping over the sugar coated apples by placing crumbles over the top until most of the apples are covered.
Bake for 45 minutes or until the top is golden brown.

Allow the apple crisp to set for 15 minutes before serving.

Serve with vanilla ice cream and a drizzle of caramel sauce!

Enjoy!